La tendenza "Stardust" è divenuta sempre più forte negli ultimi tempi, una vera e propria passione che la moda interpreta per assecondare il desiderio di evasione, per consentire ad ogni donna di reagire ad un senso di malessere culturale brillando in simbiosi con la natura. Indossare un capo glitter significa riuscire a catturare una piccola scintilla di luce, un raggio di sole, il  bagliore della luna e delle stelle enfatizzando così il nostro fascino.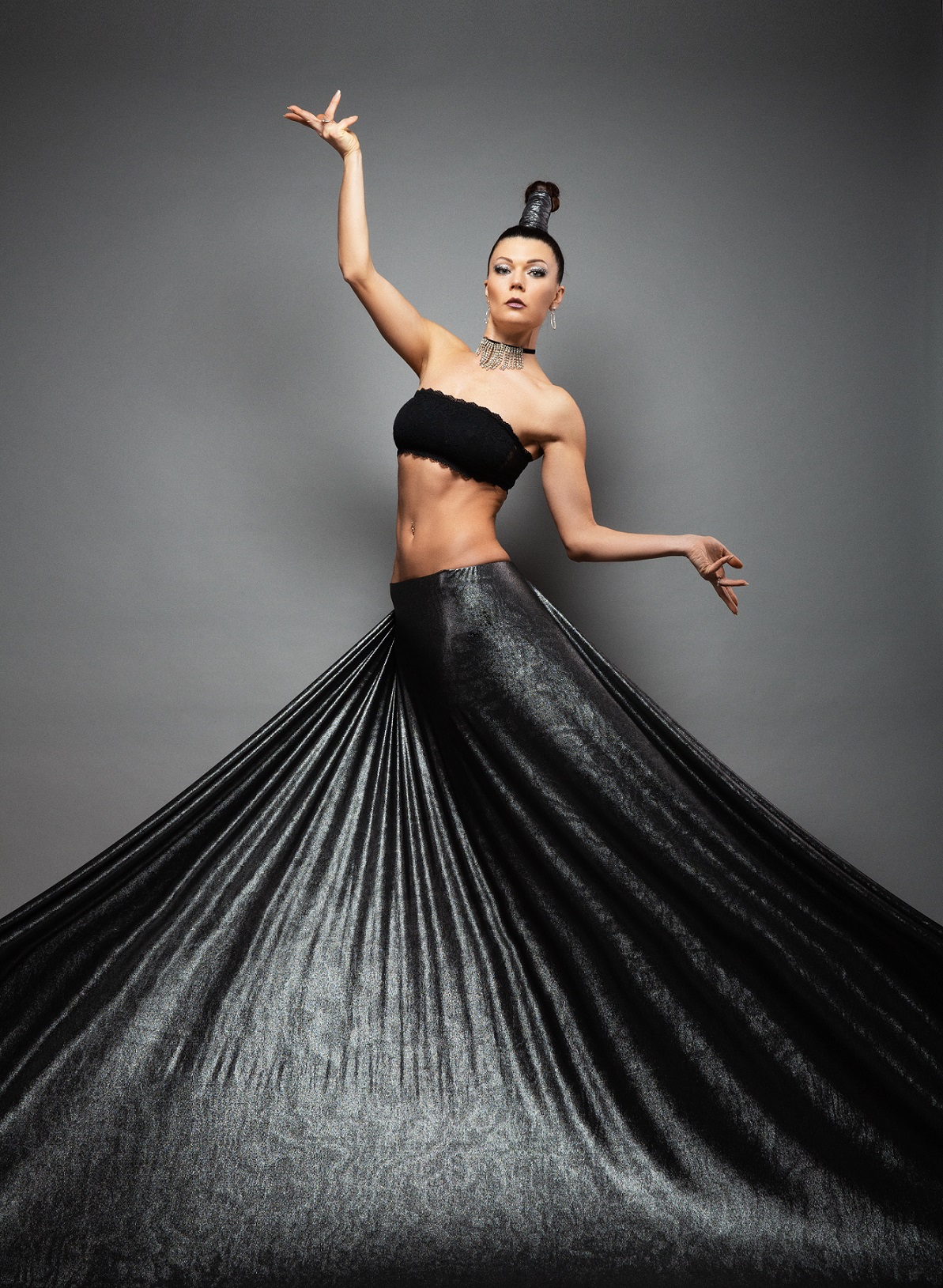 La nuova collezione "Glitter" di Fabiana Gabellini nasce proprio con l'intenzione precisa di donare ottimismo e speranza, di far splendere tutte le donne come gioielli preziosi dal mattino alla sera. Un ensemble di capi che attrae, abbaglia, incanta e seduce. Disorienta piacevolmente. Dalla gonna lunga, al gilet, alla camicia con volant, agli abiti, ogni capo può essere abbinato in maniera semplice ed elegante in relazione al proprio stile ed indossato in molteplici occasioni. La giovane fashion designer, ancora una volta, interpretai desideri ed i sogni delle donne, realizzando autentiche creazioni ricche di abilità e maestria, che celebrano un raffinato artigianato e una eredità couture. Fabiana utilizza la sua arte affinchè i suoi looks siano la più pura e totale espressione femminile, incoraggiando ogni donna a mostrare la sua anima e ad essere se stessa, aiutandola a sentirsi sempre chic e sofisticata. Un design versatile, uno stile gentile e poetico del quale innamorarsi. La moda di Fabiana Gabellini è, infatti, una affermazione di personalità perchè l'abbigliamento che decidiamo di indossare parla di noi, è un modo per distinguerci,  per comunicare agli altri la nostra unicità.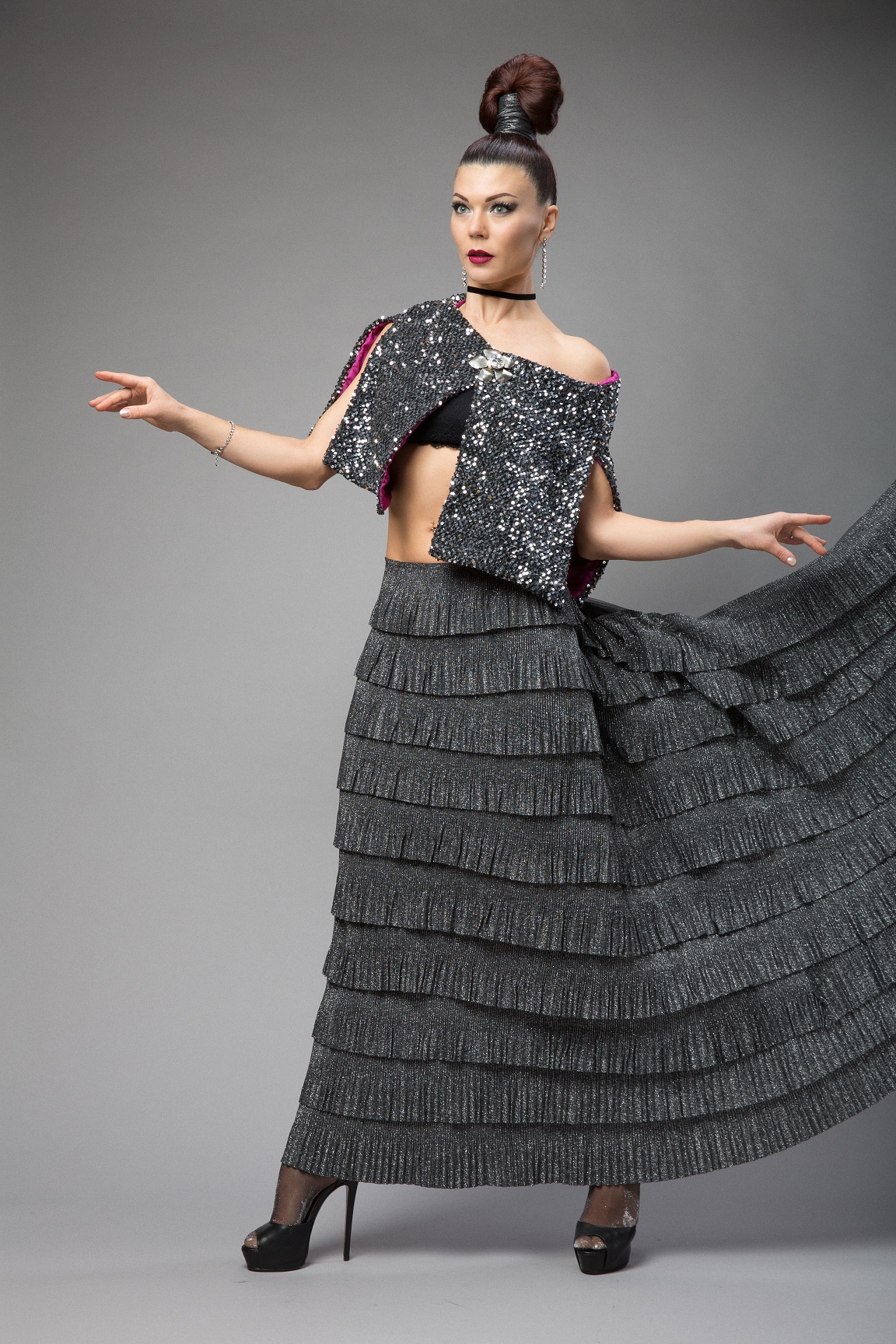 La collezione "Glitter" di Fabiana Gabellini sa far emozionare, è un perfetto equilibrio di garbo ed audacia, è dedicata a una lady che ama divertirsi, giocare con la luce per brillare con naturalezza, impreziosire la sua immagine per mostrare il suo misterioso charm intriso di sofisticata e scintillante leggerezza, la sua femminilità delicata che non rinuncia al lato passionale e seducente.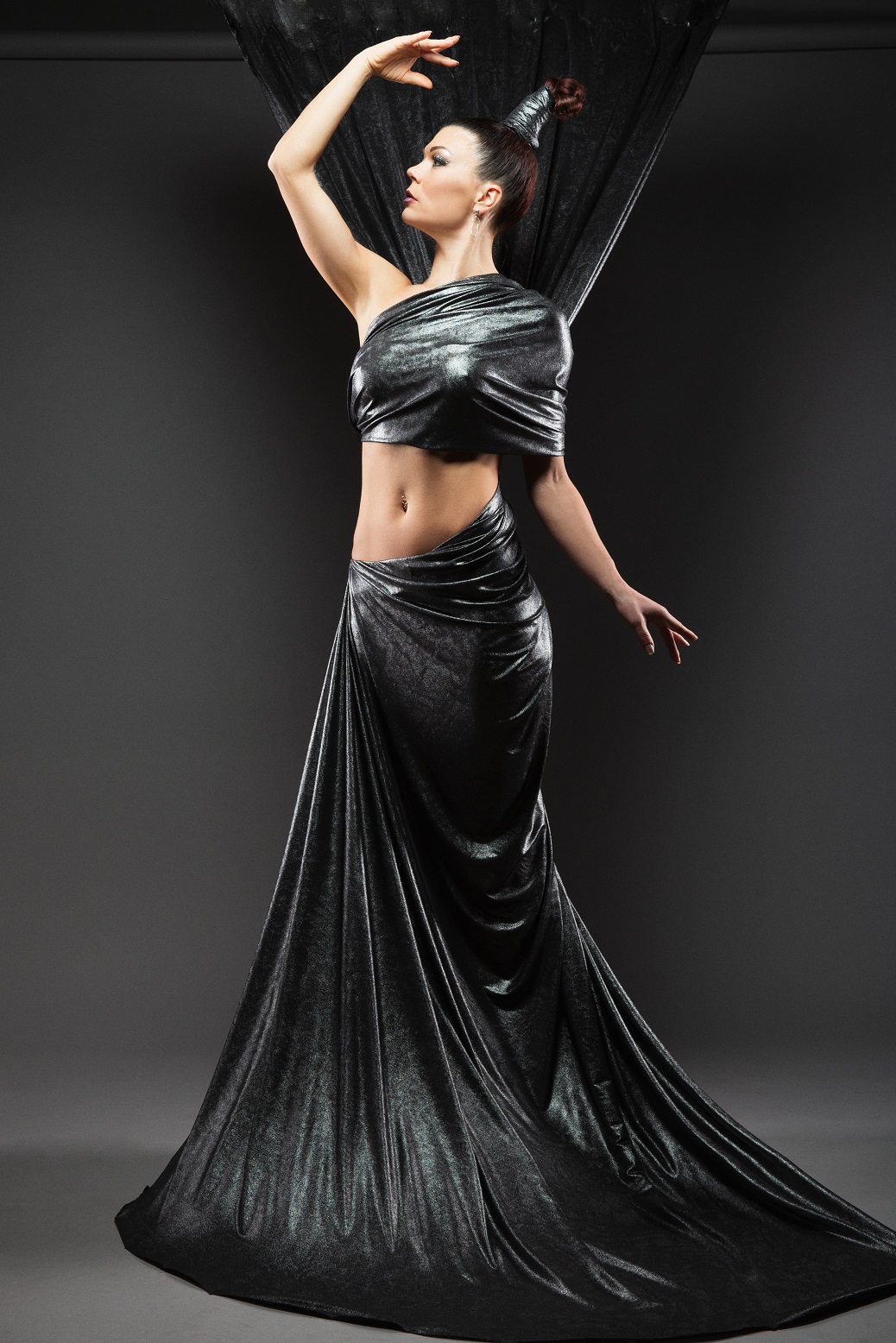 The new "Glitter" Collection by FabianaGabellini for a woman who loves to play with light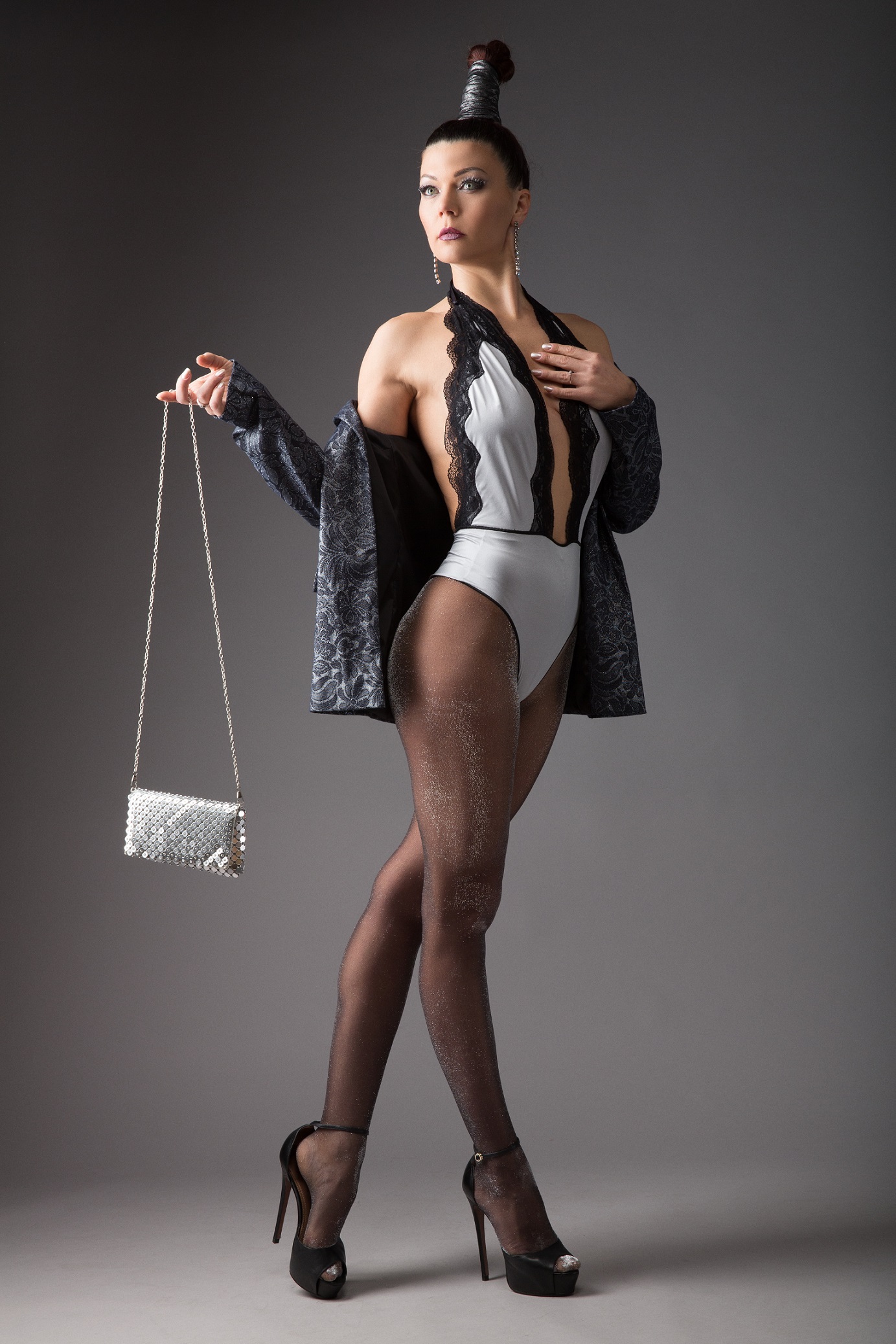 The "Stardust" trend has become increasingly strong in recent times, a real passion that fashion interprets to satisfy the desire for escape, to allow every woman to react to a sense of cultural malaise by shining in symbiosis with nature. Wearing a glitter garment means being able to capture a little sparkle of light, a ray of sunshine, the glow of the moon and stars thus emphasizing our charm. The new "Glitter" collection by FabianaGabelliniwas created with the precise intention of giving optimism and hope, to make all women shine like precious jewels from day to night. An ensemble of garments that attracts, dazzles, enchants and seduces. Pleasantly disorienting. From the long skirt, to the vest, to the shirt with ruffles, to the dresses, each item can be combined in a simple and elegant way in relation to yourown style and worn for multiple occasions.
The young fashion designer, once again, interprets the desires and dreams of women, making authentic creations rich in skill and mastery, celebrating refined craftsmanship and couture heritage. Fabiana uses her art to ensure that her outfits are the purest and most total expression of femininity, encouraging every woman to show her soul and be herself, helping her to always feel chic and sophisticated.A versatile design, a gentle and poetic style to fall in love with. FabianaGabellini's fashion is, in fact, a statement of personality because the clothing we decide to wear speaks about us, it is a way to distinguish ourselves, to communicate to others our uniqueness. The "Glitter" collection by FabianaGabelliniknows how to excite, is a perfect balance of grace and boldness, is dedicated to a lady who loves to have fun, play with light to shine naturally, embellish her image to show her mysterious charm full of sophisticated and sparkling lightness, her delicate femininity that does not give up the passionate and seductive side.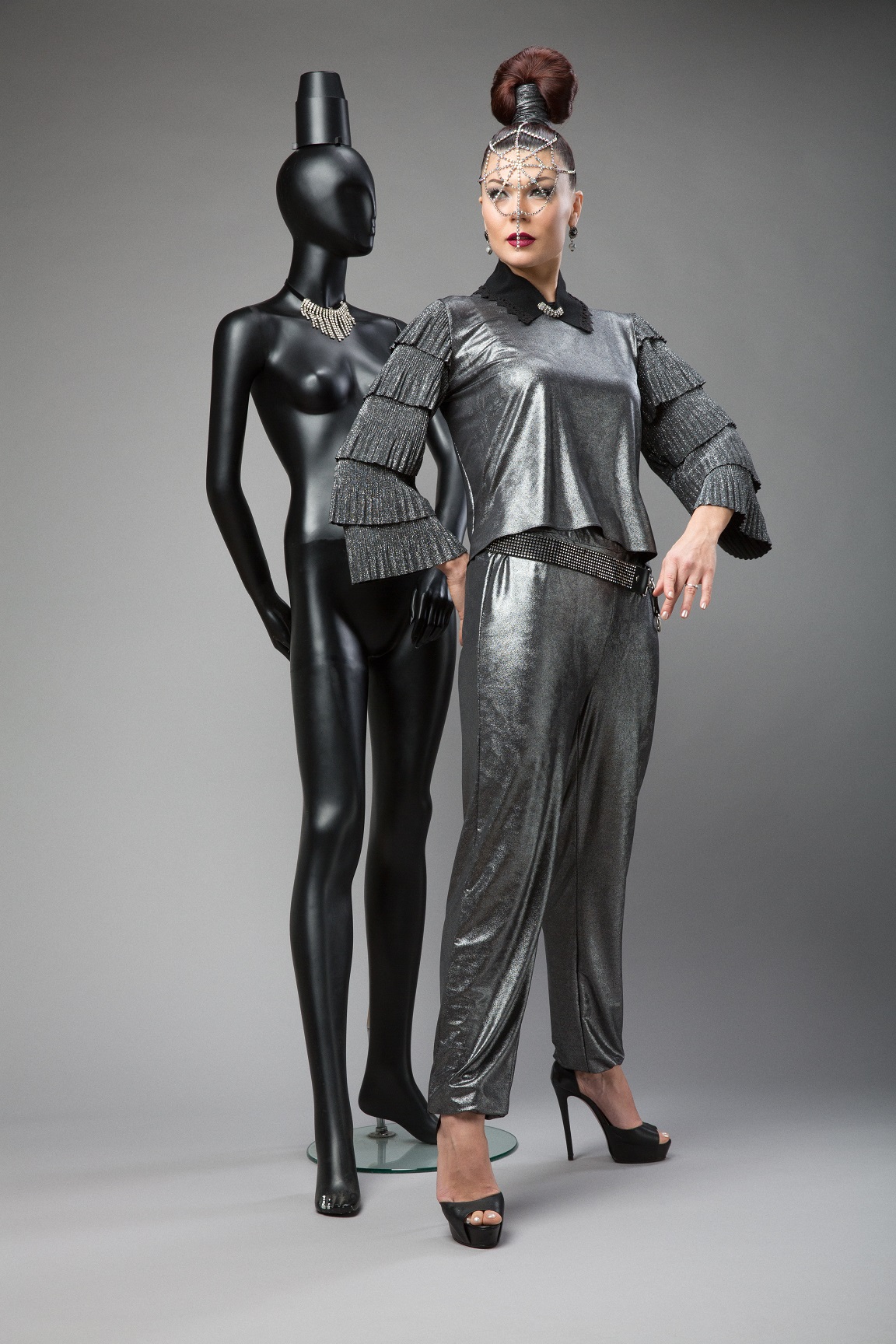 Ph. ©EvgheniCapanelli, Model&Stylist Natalia Arduini, MU Cinecittà Makeup by Lucia Conti, Designer Fabiana Gabellini
 Press: Francesca Fortini